Raising productivity in the aerospace industry
When an automotive parts manufacturer needed to slash costs, the Sandvik Coromant CoroCut QD™ helped eliminate waste and increase insert longevity.

When New Engineering Works CEO Binod Agarwal bought into the machining business in 1996, it was housed in a dilapidated shed with eight employees who produced a handful of components using conventional lathes. But Agarwal rolled up his sleeves and got to work.
"I don't have an engineering background, so I worked on the shop floor for the first two years, just to understand the business," he says.
Agarwal was amazed at the CNC machines he saw at trade fairs, but he doubted they could be cost-effective for the small components New Engineering Works manufactured. Then, in 2006, he bought his first turning machine. Within a few years, the company went from making fewer than 100 different components to more than 500 – with a similar increase in production and turnover.
"Now I say CNC is the only way you can get world-class quality," Agarwal says. "We have illiterate people who can't sign their names, but they can produce and measure our components to precision."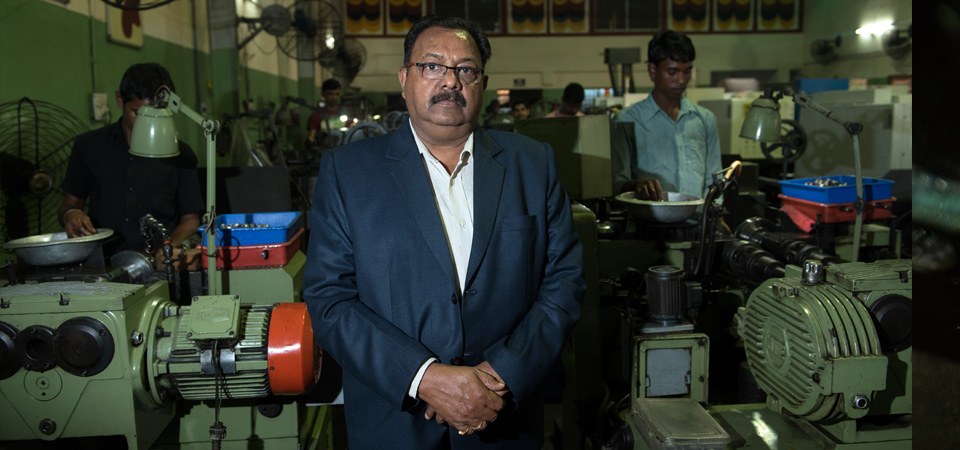 ​Today New Engineering is equipped with 32 turning machines, 11 VMC machines and two VTL machines. It has annual sales of 2.36 million euros and produces more than 500,000 parts per month.
New Engineering Works is situated in Jamshedpur, a company town built around Tata Steel, and it depends on Tata companies for the bulk of its business, so world-class quality is essential; shaving a fraction of a cent from the cost per component can be the difference between survival and disaster. That makes Sandvik Coromant a valued partner, Agarwal says.
"The price per component set by Tata Motors will not change for years and years, but labour and raw material prices change every six months," he says. "We have to keep finding other ways to save to adjust ourselves."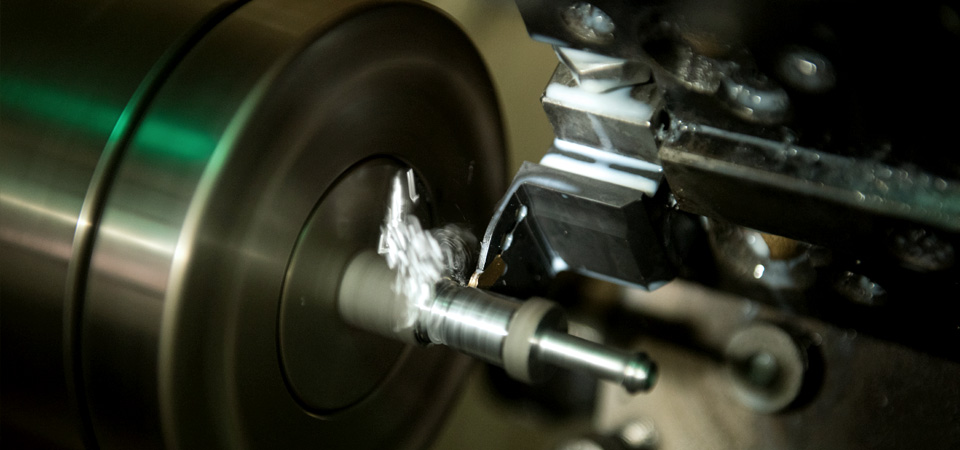 ​To manufacture hydraulic and pneumatic end fittings including studs, shafts and hardened bolts as well as other small components such as sockets and plugs, New Engineering first cuts three-metre-long hexagonal and round rods to one-metre lengths with a band saw. Then different machines shape the end of the rod into a stud, bolt or plug and the semi-finished component is separated from the rod for threading, plating and other processes.
Until 2015, New Engineering was using a three-millimetre insert made by one of Sandvik Coromant's competitors for parting off the components. But Agarwal knew he needed to reduce the cost per component to stay profitable, and he was unhappy with the competitor's inserts because of frequent breakage, as well as screw and holder damage resulting from chip jamming.
"We used to have a big problem with breakage with the hexagonal bars," Agarwal says.
After consulting with Sandvik Coromant engineers, Sandvik Coromant distributor Joydeep Roy Chowdhury suggested replacing the competitor's three-millimetre insert with a two-millimetre insert from Sandvik Coromant's CoroCut QD system. Based on a long track record of success, Agarwal was quick to give the new product a shot.
"He's very open to absorbing new ideas," Chowdhury says. "This product was used for the first time in India at his factory in Jamshedpur."
After a little experimenting with different geometries and New Engineering's toughest hexagonal bar, they settled on the two-millimetre CoroCut QD insert CVD grade 1135 – and immediately saw the impact. The change (from the three-millimetre insert to a two-millimetre insert) meant a materials savings of one millimetre per component. Delays for changing inserts or screw breakage were eliminated, and tool longevity more than doubled, resulting in a total cost savings of 0.4 rupee (0.005 euro) per component. At 120,000 units per year, that's a savings of more than 600 euros from just one of more than 500 parts New Engineering Works manufactures.
For a company already running three shifts and turning away business because all its machines are occupied, there's added peace of mind from the reduced downtime due to breakage. And the commitment to world-class quality at the lowest possible price – with Sandvik Coromant as a partner – has paid off in the form of a trusted supplier relationship with customers such as Tata Motors, Cummins and others.
That means many New Engineering Works components go directly to Tata and other assembly plants without an external quality check, thanks to the company's track record of zero ppm. Recently, Agarwal was able to set his own price and specifications for a socket that had been costing Tata Motor's truck division 250,000 euros a year in warranty claims. Now those claims are zero, and New Engineering has had no trouble meeting supplier criteria for Tata Motors' Prima – the "world truck" designed to make Tata a player in export markets from Korea to Eastern Europe.
"It's a prestigious thing for us that they have recognized us as a high-quality supplier," Agarwal says.